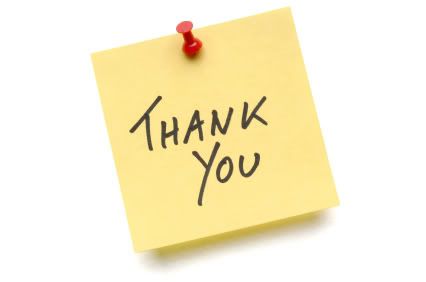 This is the perfect time of year to show your thankfulness and gratitude to the important people in your life.

For some people, displaying emotions and feelings is difficult. We have some tips to help you show your thankfulness:

Flowers – A classic showing of appreciation, sending someone a bouquet of flowers is a great way to say "thanks." A handwritten note is the perfect way to complement this gift.

Donate To Charity – Find out the favorite charity of the person you would like to thank and make a donation in their name. Or better yet, volunteer a few hours of your time to the cause.

Favor Certificates – Kind of like a gift certificate, a favor certificate is a bit more personal and from the heart. Using your home computer, you can get very creative with these and make them valuable for anything the person you would like to thank might need.

For example, a favor certificate could be worth a day of babysitting or a few hours of yard work. Use your imagination and create the perfect one for your loved one.

A Treat That's All Their Own – Show your gratitude by buying your loved one something that they can enjoy all on their own. A busy woman would certainly enjoy a manicure or pedicure. Think about what your loved one would enjoy, but wouldn't buy for themselves, and treat them.
To show our gratitude to all our amazing customers, we'll be giving out random surprises all month long, such as free gifts, and coupon codes.
This month we  also challenge you to show gratitude by doing more than just saying "thank you". Use the ideas above, or come up with your own. Leave a comment. Let us know how you have, or how you plan to show gratitude this month.
<3